Blanket Fort Night : Circa 2005
I am a type A personality. As much as I try to pretend that I am cool and laid back, I'm not. I have lists for my lists. I have to try to relax. I have guilt based anxiety when my to do list goes unfinished. In all honesty, I would imagine I am a lot of work to be around because I am constantly moving and multi-tasking and delegating. It's just how I am. As I get older, I am finding new ways to chill the hell out but it is a process and an on-going one, at that. I'd be the first person to accidentally join the ranks of the undead in a zombie apocalypse because I panic (and I hate guns, but that's for a totally different day). Anyway, I'm high energy and high maintenance and high volume. Most of the time, I'm just a lot, all at once.

Guy on the other hand, well , he's not. In fact, we are so different that sometimes we joke, had we met now and not when we were 13, we probably would never even have dated. Although, I like to argue that I can't resist a man with a beard and an affinity for non-profit work. Anyway, we are just really different. He's calm and collected when everything falls to pieces. He likes puns…and hoppy beer. He's politically moderate and he's tall and listens to the radio at sensible volume. Regardless of our differences, he's the one who has taught me it's okay to stop, to change my mind, to fail, to start over from the very beginning, and perhaps most importantly to take a day off once in a while. He also helped me grow my beer chops. That is also a work in progress.
This morning when we woke up, he talked me into staying in bed for five more minutes enjoying the welcomed warmth of our comforter for the very first time since February and even though it meant rushing to get out of the door and Harper eating breakfast on the way to school, I'm still thinking about those stolen moments hours later. I couldn't help but realize just how lucky I was to find him so early in this lifetime.
Sometimes I listen to my friends talk about dating and I wonder what it would be like to fall in love as a fully realized adult. Guy and I started dating when we were both 17 after prancing around each other for a year. We thought we were being logical about the whole thing. Nothing serious, just someone to take to prom, make out with in the back of his dad's Altima and spend the summer with before I left for college. By the time I was ready to move to San Diego, we were in too deep. How ridiculous we were to think I could half-ass anything.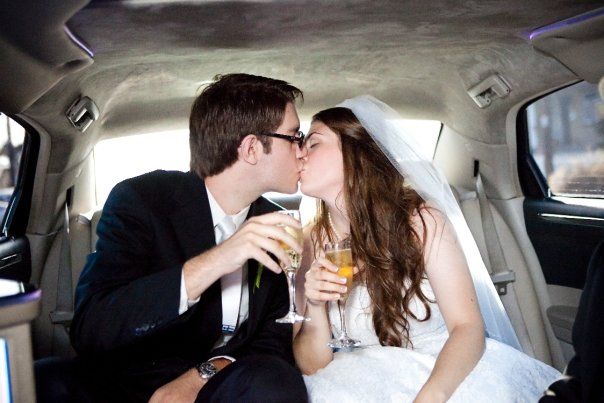 People think we are stupid. Most of them couldn't contain their appalled, concern-laced expressions when we got engaged before we could legally drink. And that's okay. This isn't for everyone. I'm not advocating it. It's not always easy. It's not all chocolate chip pancakes and late night kitchen waltzing. Sometimes, it's getting snippy and falling asleep in bountiful piles of credit card bills. Sometimes it's "this is your fault" and "how could you think that was a good idea" or "you are being selfish". Much of the time it's "I'm sorry" or "it won't happen again" or "I still love you". There is a line in Crazy, Stupid Love where Steve Carell's character is talking about his wife, whom he is separated from, and he says "I have loved her, even when I've hated her." Sometimes it's like that.
Our bones are still settling into who we are as individuals while we try to grow up together and raise one blonde tornado and three ill-behaved dogs. There are growing pains and we hurt each other as we stretch and learn to navigate our changing selves. It's a lot. All the time. But even so there are five extra minutes under the covers on the first cool Thursday morning of fall. There are foot rubs and communual bitching about how the Target ad sucks again this week. There are nights with all six of us in one queen size bed after a particularly persistent nightmare. There is a liter of red wine in Rome and a tiny apartment in East Berlin. There is watching Guy put the Dance Dad hat on and helping Harper pick out tiny ballet slippers. Sometimes a lot is good.
Guy,
You are still my teenage dream. Who would have known the world's two most awkward teenagers would manage to build a life, very humble but full of joy and laughter, understanding and generosity. I know I don't always take the time to recognize how tirelessly you work to make our little world keep turning. I snap at you and hold you to unreasonable standards . I whine and I pout and I blame you for things you aren't responsible for. And I am always in search of my gold star. But, even in those moments, when I don't love our situation or love your actions, or my own, for that matter. I always love you. For you, sweetest boy, just one song to sum it up because nothing I do is complete without a song and dance number.
Love, Ray <3